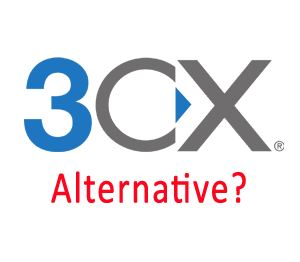 It is true many VoIP providers started out on a 3CX PBX Platform. One could say it was a much-improved Asterisk comparable solution that could be resold to your end-user customers. It was free on smaller installations, at least for the first year. Now your VoIP business has grown, you have added many customers and new 3CX licenses. You have grown comfortable with 3CX, but something in the back of your mind says maybe there is a better way of doing this. You're not alone.
Over the years, many new VoIP Platforms and resellers have emerged. The problem is the majority of them sell to your customers and to other resellers. It is quite a conflict and detrimental to your growth as a VoIP Provider. The majority of the Platforms and Resellers are operating on Asterisk or 3CX-based systems. I am not saying this is bad, it really depends on who is providing it, their technical expertise, and how they wrap the service itself. What I am saying is there is a better way.
Let's look at a major 3CX alternative, Talking Platforms. They offer a product called myPARTITION. They essentially give you a slice of their proprietary white-label Softswitch at an extremely affordable rate, as low as $0.25 per seat, per month. This is a powerful product and service with all the benefits of a real Softswitch. Operating in a centralized VoIP Softswitch solves many of the issues that you experience with 3CX or Asterisk environments. For example, do you experience any of these issues:
Building out new VMs for every new PBX and customer
Building out separate PBX instances
Buying perpetual individual PBX licenses
Manage ongoing PBX licenses
Different logins for every customer and PBX
Setting up VPNs for multi-site customers
Setting up SBCs and NAT services
Setting up individual hosted or cloud server accounts
Inability to sell SIP trunks
No integrated billing or automated taxes
Limited security and protection
Limited or no DDoS Protection
Desire to be on a real Softswitch with white label-capabilities
Scalability to grow sustainably and attract large customers
Paying over $1.00 per seat
If so, you may want to look at the myPARTITION service from Talking Platforms. This service can streamline your growth, save you time, and provide a path to becoming a larger service provider, and all of this is under your company brand and image using their white-label Softswitch.
From your perspective, you are operating your own Softswitch and providing any carrier(s) you want on the service. You are in full control and price your service any way you like. They have integrated billing and taxation built right into your partition to automatically bill your customers with your company logo and billing address on the invoice. In fact, your customers would never know Talking Platforms exists unless you told them.
In addition, the myPARTITION provides you what most service providers worry about the most next to reliability; Security and Toll Fraud protection. In recent months, VoIP providers have been under attack by DDoS and nothing else can bring your service down faster and lose customers than this threat. The myPARTITION service operates under the Cloudflare protection system which provides over 100 TBps of bandwidth against the largest DDoS attacks and shuts them down in seconds. Many service providers forgo this protection due to the high cost, but not Talking Platforms. The myPARTITION service also provides integrated Toll-Fraud protection mechanisms you can enable and tweak. This allows you to mitigate hacked VoIP accounts and minimize any potential damage.
Another advantage to the myPARTITION is the ability to resell SIP Trunks. It's literally a "Carrier in a box" feature. You can sell SIP trunks to other providers or easily address a customer who wants to utilize their existing IP PBX in the cloud or on-premise. And yes, it could be a 3CX or Asterisk IP PBX.
To Summarize, we all get comfortable with what we know. Change can seem painful, especially when it comes to a VoIP Platform or IP PBX that we have used for any period of time. Pushing ourselves to look at a potentially better alternative for the long run is always in your best interest. In this case, we pointed out a valid 3CX alternative that could make selling VOIP much more fun and profitable. Break free of what you are used to and let a service like the myPARTITION open new doors.