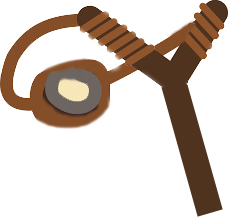 It may feel like your carrying a sling and a pebble as a smaller Hosted VoIP Provider, but you do have the power to conquer the large VoIP providers in this day and age. The paradigm has shifted and arming yourself with a little knowledge goes a long way too winning.

It was not so long ago that the largest companies had a competitive edge. The perception was built and it said "You're always safe going with the big company" or "You will never lose your job going with the largest companies". How times have changed and maybe as a VoIP or managed IT provider you did not realize this important shift with small to medium size business decisions.
How did it change you may ask? As large businesses grew even larger they looked for ways to cut costs and improve profit margins. Nothing wrong with that, as all business owners need to continuously address this subject to stay financially healthy. The problem rests with how you address the issue and the decisions you make. For many larger companies, their largest costs were centered around customer service and support. The answer was outsourcing support and typically this was done outside of the country. Seems logical and reasonable but in reality, their customers were subjected to poorly trained personnel and sub-par experiences. The support experience was now commoditized and in many cases just plain unprofessional despite all of their attempts to train and improve the quality. At the same time, many improvements in IVR based applications and the rise of web-based help desks allowed these large companies to automate and push customers away from direct support personnel. It was not uncommon to remove any direct or indirect contact telephone numbers. This further alienated their customers with frustrating support experiences, long waits with the dreaded disconnect requiring them to start all over at the bottom of the queue. In the end, the safe and secure love affair with large companies slowly changed, leaving their customers back on the hunt for the best small business phone system.
Fast forward to today and the majority of small to medium size businesses would rather choose a smaller, local high-quality VoIP service provider for several reasons:
There is a proximity-based relationship with a local VoIP service provider
In most cases, someone from the local VoIP provider will show up onsite as a real person. Someone to connect with and respond to requests and issues
Many local best quality VoIP providers are IT experts or provide IT managed services. This allows for a one-stop shop and that single point of contact for support
If the local high-quality VoIP provider arms themselves with the facts of their VoIP Platform, its capabilities, data centers, and redundancy, they can easily position their company over the larger and more distant provider who will never provide a representative onsite.
The local provider can add value by simply caring about their customers over the cold shoulder of a large big box provider.
The next time you feel Goliath has you beat, remember your inner David can win and you can become the best phone systems for small and large businesses! You only need to arm yourself correctly with knowledge and a sales plan. Be known for your best quality VoIP phone service!
Start providing the best quality phone service by calling Talking Platforms today at 202-747-0064! Ask us about our VoIP reseller program.