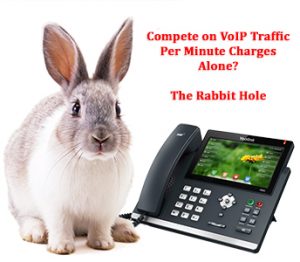 When Alice in Wonderland went down the rabbit hole, she had no idea what a wild ride it would be. Providing VoIP business telephone services is not very different depending on how you sell your services. If you think having the best per minute call rate is a strategy to fame and fortune, be prepared for a not so exciting journey!
As an organization selling or reselling hosted VoIP services, you most likely looked around on the Internet for VoIP providers and focused on their call traffic rates?  There is no end and no limits to the pricing. The call traffic rates go as low as you continue to search. It may appear these VoIP providers have found the holy grail and know something you don't, but that is probably not the case. Did you know there are all types of carriers and associated quality? It does exist and it can cause all kinds of unintended consequences which in the end determines if a customer stays or leaves. Who wants to run a churn and burn organization where you constantly have to find new customers, train and use valuable technical support resources?
There is a better way though you may have thought differently. For many, it's all about their sales approach, experience and focus. For example, if you sell copiers or office supplies as your main business and want to sell VoIP telephone services, to be successful at the both will require you to apply the same effort that made you successful at copiers or office supplies. If you do not, what makes you different from anyone else? You are in the race to the bottom of selling VoIP services which makes you and your customers unhappy.
Now that the gears in your head are turning, you may be asking how you can avoid the race to the bottom? How do I project myself as a provider where a customer will choose based on my capabilities over a competitor and their low price? It's all about customer education, knowing your platform's strengths and your sales approach.
When using a quality service and partner like Talking Platforms to provide the platform for you to sell VoIP services under your brand, your job gets easier. Let's go through why your service can demand more revenue and not focus on per minute charges and cost:
Your company is local and not a big box VoIP provider – In the past, you were required to go with the bigger company simply because it's safe. Today the paradigm has changed and small to medium-sized businesses desire a local relationship. How many times have you tried to call a big box company and it's next to impossible to find a number or contact, then call and go through hoops just to get to support with an eventual hang-up?  These customers have all experienced this modern-day problem. Use it to your advantage.
Your service is reliable and secure – Your competitors will say the same, but for most, it is just marketing with nothing to back it up. Educate your customer. For example, using the Talking Platforms system to provide your VoIP services has gone through great expense and effort to provide reliability. Since security and reliability are tied together, Talking Platforms has two-stage authentication for access to the system, temporary URLs, and HTML form name variables to start. DoS/DDoS and Toll fraud protection are integrated and not bolted on with 3rd party solutions. A multi data center, mirrored hardware and software, real-time data replication and BGP routing ensure rapid recovery in the event of disaster recovery. These are some of the details that separate from just stating buzz words or talking points.
Experience and Longevity – Most VoIP providers at present are 2 years or younger. They typically cut corners and use non-scaling solutions to provide VoIP services with the intent of making money first and then addressing all the security and reliability issues. This lowers costs, but as you can imagine the quality of their service will be lower and outages will be more prevalent. With Talking Platforms, they have been in business since 2005 delivering white label VoIP services to service providers and resellers. Most small to medium size businesses care more about their phones working than lower prices. That is a fact and should be made clear to your potential customers.
Call Quality and Reliability – At the premise of this blog was per minute charges being the center of trying to sell the service. This is truly a moment of you get what you pay for. Many VoIP Providers cut corners by using lower quality carriers to deliver and receive calls. This will affect the end customers' experience in the end. Not all VoIP Providers are the same, make the same choices or care about the end user. Some will try to limit their bandwidth usage and costs by using lossy compression techniques which reduce audio quality or link to carriers with sketchy routes that randomly fail. Your potential customers need to know and understand this.
Providing true hosted PBX services – Many of these low call traffic rate companies are simply providing a phone number and registration information for a customer to connect their phone or softphone. They do not provide business PBX functionality. It is all about making and receiving single calls. They do not support Auto Attendants, ring groups, conference rooms or most business PBX services. Some only provide a SIP Trunk and require you to add individual IP PBX systems. This is a huge difference and once your customer understands the difference, they will value your service more.
With just a few educational subjects, your customers and potential customers will perceive you as the more logical and better choice for their VoIP telephone services.  The value you now add allows you to sell your service at a fair and profitable rate. When done correctly, your pricing is typically the last subject and less important. The question you have to ask yourself is, would you rather bring on and maintain customers with this approach or would you rather go after the never-ending lower price per minute and customers with loyalty to price only? Ask Alice, she has been there and would now choose differently.