Hosted VoIP Security and Protection Features
---
Security and Protection are at the heart of every stable and scalable hosted VoIP platform. Choosing a VoIP platform to place your valuable customers on is critical to your long-term success. Without advanced hosted VoIP security features, your customers whom you have worked so hard for are at risk of lost productivity, revenue, and lost business. Then comes the tarnishing of your core company brand and image.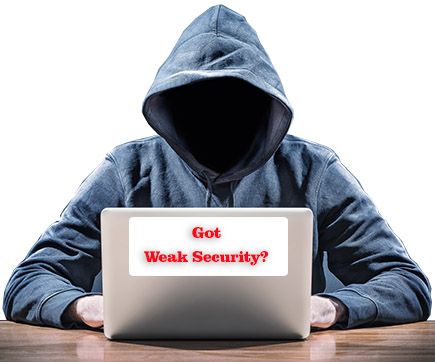 The Talking Platforms wholesale VoIP Reseller Program has integrated the following hosted VoIP security features:
DoS/DDoS Manager
Toll Fraud Manager
Call Credit Manager
Package Minute Manager
International Rate Manager
Call Duration Manager
Inter/Intra State Manager
DoS/DDoS Manager
The DoS/DDoS manager eliminates denial of service attacks. These types of denial of service attacks can bring most VoIP Providers to their knees by causing continuous CPU and database overutilization. This will cause voice traffic calls to either fail or produce terrible voice quality. In many cases, smaller or unprotected providers can be down for hours or days depending on their technical capability and revenue resources. Our DoS/DDoS manager is a hosted VoIP security feature that is integrated directly into our wholesale VoIP providers platform and monitors dynamically and heuristically for these types of attacks; When detected, threats are immediately disconnected from the system and blocked. Attacks never make it to our database or CPUs.


In addition to our integrated DoS/DDoS protection, we route our traffic through Cloudflare to support the largest scale DDoS mitigation available. This protects our voice traffic from DDoS attacks up to 100 Tbps, in the same way, many fortune 500 companies have done.

Toll Fraud Manager
The Toll Fraud Manager, another hosted VoIP security feature, looks for and detects fraudulent activity with inbound and outbound call traffic. Without any type of protection, a hacker can generate thousands of dollars of call traffic in a short period of time. This kind of fraudulent traffic has many detectable signatures that our Toll Fraud manager is continuously looking for. When found, the Toll Fraud manager terminates the hacking process immediately and clamps down on the offending account.


The Call Credit Manager locks down individual extensions, sip trunks, and residential accounts with credit limits. Sometimes call traffic is perfectly normal; but it's best in most cases to set limits to what each extension or sip trunk can spend, especially outside of packaged minute plans. Our Call Credit manager individually monitors and tracks every extension and sip trunk for all of your customers. You simply pre-set an amount and the system does the rest.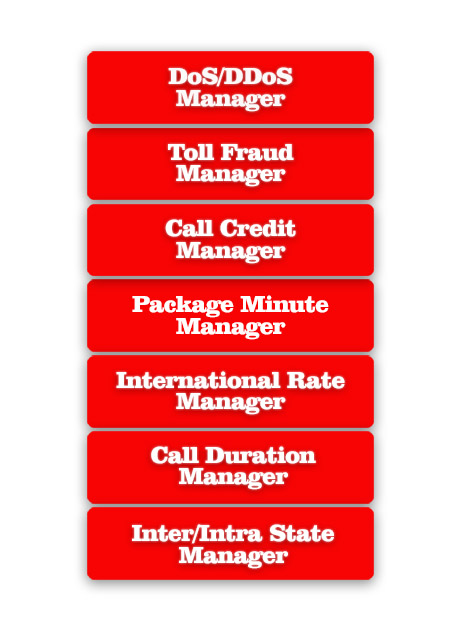 The Package and Pooled Minutes Manager allows you to precisely determine how many free minutes your customers receive. Our advanced Package Minute Manager allows you to set packaged minutes for individual extensions or pooled minutes for the entire company. In addition, you can determine exactly where they can dial and where they cannot, including international destinations and dial codes. This provides additional security from possible toll or accidental fraud usage.


The International Rate Manager allows you to determine the exact rates and dial codes available to your customers. This feature allows you to set all of your available countries and their individual rates. By utilizing this manager, you're in total control of your international accessibility in one central place.


The Call Duration Manager allows you to set how long your customers can talk during one session. By setting restrictions on the length of each call, on each extension, or on the SIP Trunk, you can ensure that your credit limits are enforced on each extension and the company credit limit as a whole.


The Inter/Intra State Manager allows you to determine where your customers can call, down to a single area or dial code. This feature not only allows you to customize a precise package and pooled minute plan but also acts as a control mechanism for restricting calls to particular areas.


With all of these Managers and hosted VoIP security features working together, you have a safe and secure VoIP reseller program that avoids downtime, outages, and fraud. We want to protect you and ensure you are able to protect your customers. That is our pledge and number one priority.
Interested in learning more? Call us at (202) 747-0064 or email us at This email address is being protected from spambots. You need JavaScript enabled to view it. today for a one-on-one discussion and demonstration.