io

SaaS-

PLUS

Service Plan
Wholesale White-Label UCaaS & PBX Platform.
We handle the carriers, porting, and numbers.
Partner profit margins up to 75%
---
The Talking Platforms ioSaaS-PLUS model is our wholesale UCaaS reseller program that allows you to sell UCaaS services without the added stress of finding and maintaining carriers. You still have all of the wholesale VoIP wholesale UCaaS reseller program features reseller services, PBX functionality, and more to manage a VoIP service platform under your brand and control. In addition, you can add our optional White Label End User Support program to provide world-class support directly to your customers under your company name and brand.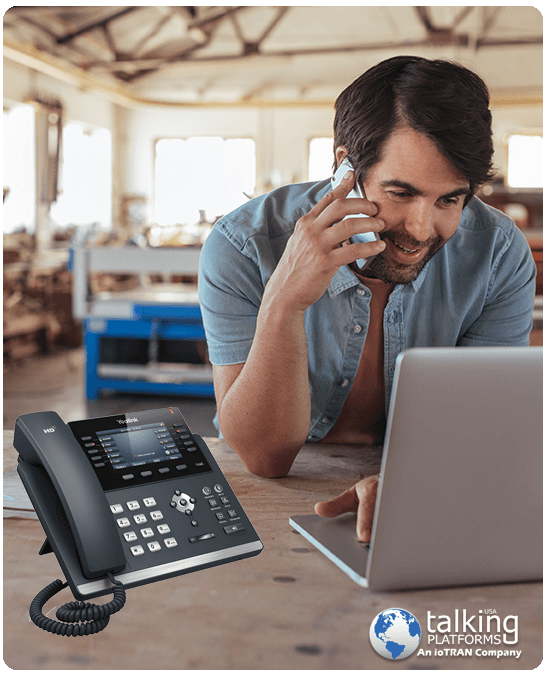 Talking Platforms understands that many managed service providers and organizations have a primary business focus and offering hosted UCaaS is a secondary service. With our ioSaaS-PLUS model, we empower these organizations to resell top-quality UCaaS services that will attract new customers and retain existing ones, all while reducing the burden of day-to-day management and resources.
Become a Hosted UCaaS Provider Today!
Under the Talking Platforms ioSaaS-PLUS model we do the following:
As your white-label hosted UCaaS provider, we support and maintain the platform including the hardware, software, data centers, high availability, and redundancy
We handle the Inbound/Outbound Carriers/Porting/DIDs and associated services
We support you and you provide support to your customers (unless you sign up for the optional White Label End User Support program)
We train you fully to manage the platform
We provide you with ongoing advice, suggestions, and motivation
We provide white-label marketing
Our wholesale UCaaS reseller program includes partner Intranet access for our extensive knowledge base, manuals, documents, marketing, network status, feedback forms, and more
Would you like to take on more responsibility, supply your own carriers, and increase profit margins as a reseller of white-label UCaaS cloud services? If so, our private label UCaaS reseller program, the ioSaaS service plan, provides you with all the same great features with the additional control of the carriers and telephone numbers. We even provide a free wholesale trunk for you to get started with being a UCaaS distributor while you find your carriers! There has never been a better time to become a hosted UCaaS provider, and Talking Platforms make it easy.