Taxes and Regulatory Services - Talking Platforms
---
We understand how confusing the taxation and regulatory fees can be for any service provider of Hosted VoIP. Talking Platforms makes it easy by giving you the choice of how you want to handle this aspect of the business before signing up for our VoIP White Label Reseller Program. We have integrated systems and partners in place to handle every part of billing and taxation so you can focus on building your Hosted VoIP business and not be buried in paperwork.
Talking Platforms Taxation and Regulatory options: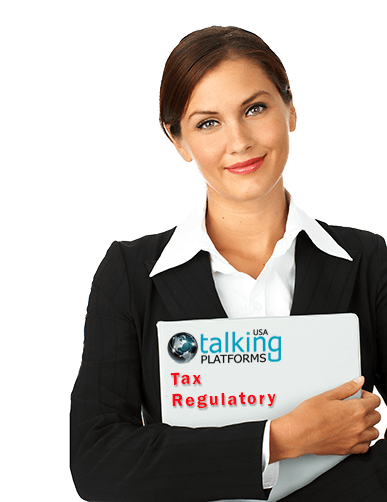 Complete Tax and Regulatory services - Enjoy peace of mind not worrying about how you will invoice customers, determine taxes and regulatory fees, and payout to the required agencies associated with being a hosted VoIP service provider. Talking Platforms makes it simple with a small fixed flat rate percentage of your invoicing.

No other white label hosting provider can provide you with such a simplified approach to taxation and regulatory fees.




Hybrid Tax and Regulatory services - Already have the capability to apply taxes and regulatory fees based on our automated invoicing system or the ability to pay out taxes to the designated agencies? We have you covered. You can pick and choose what services you need


Manually apply Taxes and Regulatory services - Want to utilize our free integrated billing/invoicing system and manually add in Taxes and Regulatory fees? Not a problem, we make it easy.


Ignore the Taxes and Regulatory services - If you have the capability to handle billing/invoicing, taxes, and regulatory fees you can ignore our integrated billing, accounting, and taxation systems. Simple.
It really is this easy to get started with Talking Platforms as your White Label Hosted VoIP Platform provider. Get started today by calling us or

This email address is being protected from spambots. You need JavaScript enabled to view it.

!