Talking Platforms:
The Best VoIP For Small Business!
Six Reasons to re-think your VoIP Platform Provider

---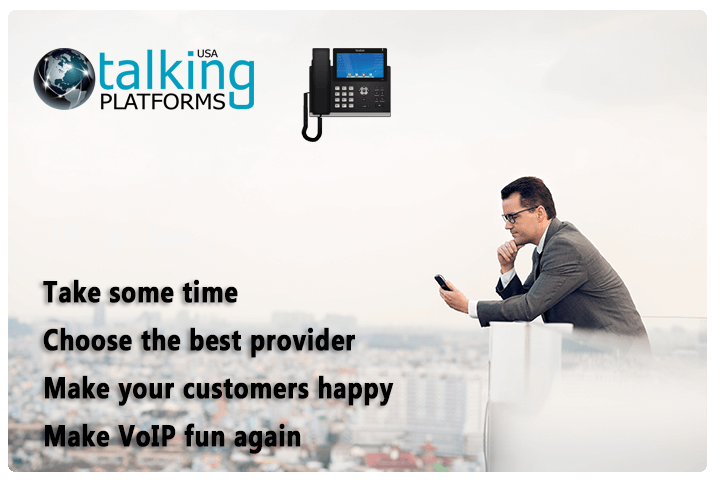 Talking Platforms is the top White Label VoIP provider in the market today and is one of the best VoIP platforms for service providers of all sizes. We differentiate ourselves from our competition by achieving the following:
We only work with Service Providers and Resellers



A benefit of VoIP with Talking Platforms is that we're highly focused on the partner, and we never compete with you. Your customer's payments never go through us, you only pay for wholesale services you choose.
Our platform is NOT Individual IP PBX based



We are considered one of the best VoIP for businesses because we do not use any Individual IP PBX providers or open-source IP PBX solutions; we built our original and successful proprietary Softswitch back in 2005. Our new generation 2.0 white-label Softswitch went online in 2022 to change the market forever. We maintain %99.999 uptime and provide unmatched security from DDoS protection up to 100 Tbps, advanced Toll Fraud security, and a tightly integrated platform firewall.
Maintain Control of your VoIP Business

All products are a la carte to allow partners total control over their products. We train you and provide support to allow you to set up your own customers on your own time. We provide two types of service models for your choice of control.

Benefits of VoIP - No Binding Contract, No Additional Fees



If your provider has to lock you into a contract for a certain period of time, what does that say about their service? Are you paying just to be a reseller? We don't tie you down, which makes our reseller VoIP platforms one of the best for small businesses.
Advanced and Automated Billing System Included



Our billing and accounting system was designed and built by us and integrated into the platform. There is no extra charge unless you would like automated taxation through our Suretax program.
Option for White Label End User Support

We dedicate a direct line to our technical support team for your customers. We'll answer as your company and solve any issues quickly and efficiently. We eliminate the need for you to hire technical support staff.

Learn more about becoming a business VoIP provider with Talking Platforms. If you're tired of being disappointed in unreliable providers, VoIP platforms that compete with you, and a lack of support or follow-up, try Talking Platforms. Give us a call or

This email address is being protected from spambots. You need JavaScript enabled to view it.

.

or call (202) 747-0064 ext. 2518 or dial option 1 for sales.